Alcohol Use Disorder (AUD) is a wider term that encompasses conditions such as alcohol misuse, alcohol dependence, alcohol addiction, or what is commonly known as alcoholism. 
Alcohol misuse is a serious problem. According to data from the National Center for Drug Statistics data, more than 2,200 US citizens die from alcohol intoxication annually.
With alcohol addiction looming, the only way to prevent the dire consequences is to seek help. Thankfully, there are accessible treatment opportunities for struggling individuals to receive 24/7 support (inpatient) or be aided in recovery in their everyday lives (outpatient).
The decision to enroll in an inpatient or outpatient program is an important one, as is making a difference between inpatient vs outpatient alcohol detox treatment. 
Beginning Your Recovery Journey
Learning more about inpatient and outpatient care can better your understanding of how both forms of therapy work. However, consulting a health counselor or addiction specialist can also help you determine which treatment is the right choice.
Let's look at both treatment types and highlight the differences:
Inpatient Alcohol Rehab: How It Works
During inpatient, alcohol patients reside in a treatment facility and are under full-time surveillance and care of dedicated medical professionals. Programs may vary across facilities but usually last between 30 to 90 days. 
Detoxification is the first step in addressing alcohol addiction. As the body clears itself of alcohol, patients can experience unpleasant withdrawal symptoms, which are treated with medication. Once this process is complete, medical professionals move on to providing patients with individual, group, and recreational therapy accompanied by wellness and fitness activities and aftercare planning. 
The goal of inpatient rehab is to isolate those dealing with alcohol addiction from their abusive environment and eliminate distractions to keep patients focused on their treatment and recovery. 
Outpatient Alcohol Rehab: How It Works
In outpatient programs, participants are not obligated to stay in a facility and have the freedom to organize their everyday activities around the sessions. In this program, clients visit the facility between 5 to 7 times per week and receive treatment in an alcohol-free environment. 
These programs require a few-hour commitment during the day, and participants are offered a chance to undergo the detoxification process within or outside the facility. Though the outpatient program offers greater flexibility, commuting between an alcohol \-free and triggering environment can be stressful and difficult to manage. 
Outpatient alcohol rehab is a good way to receive treatment without it interfering with your everyday life. This is a great choice for individuals who cannot afford to be removed from obligations such as family and work. 
Inpatient vs Outpatient Alcohol Detox Treatment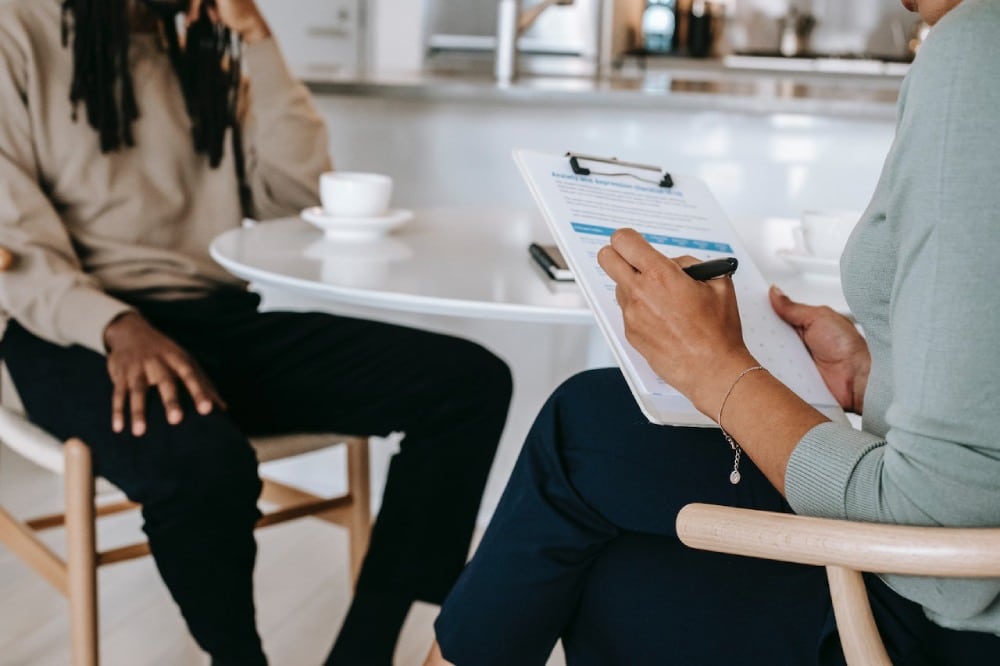 Both inpatient and outpatient detox programs come with their benefits and drawbacks. 
Inpatient rehab is commonly associated with a higher success rate. However, due to the more attentive approach, it is also more expensive. It is important that we mention that outpatient programs are aimed at treating serious alcohol addictions, while outpatient rehab is reserved for those with mild forms of addiction. 
While inpatient programs are stricter and disruptive to everyday life, they offer 24-hour medical and emotional support. On the other hand, outpatient programs are riskier as the patient remains in the environment in which the alcohol abuse began. 
Choosing between these two alcohol detox treatment systems depends on numerous factors, but the decision must be made with regard to the unique situation. 
Altitude Recovery: Luxury Drug Rehab in Camarillo, CA
Are you ready to undertake a long-term journey to recovery? Our team at Altitude Recovery offers inpatient vs outpatient alcohol detox treatment to individuals located in California. 
Our personalized treatments and the community-formed program are aimed at easing patients' path into recovery. In addition, our rehab center offers various forms of therapy, including yoga, Reiki, ATC, CBT, art sessions, and more. 
Reach out to us via phone, email, or our online form.